The healthcare property sector is gaining traction with investors looking for alternative sources of yield. Some claim it has become mainstream. Knight Frank's research last year concluded that UK healthcare is widely considered a "core property asset class, as the market continues to mature and attract a broad variety of investors, both domestic and overseas".
Even so, Julian Evans, head of healthcare at Knight Frank, says the UK lags behind the US in recognising healthcare as a core asset class. Evans says pension funds have recognised UK healthcare as an attractive asset class in the past 18-24 months. "It's now elevated to core because the average unexpired commercial lease in the UK is approximately four years. That means funds and property companies have started to look at what previously was considered alternative asset classes – healthcare, student property, hotels and infrastructure – as core because the volume of sale and leaseback and forward-funding opportunities with 25-30 years-long indexed leased assets has suddenly become attractive targets for funds."
But Rob Martin, head of research at Legal & General Property, says most investors do not consider healthcare to be core. "For us it's an important asset class in which we are active," he says. "Care homes is the area most mainstream real estate investors have exposure to."
Although care homes have attracted the most attention, the healthcare property sector also includes doctors' surgeries, private hospitals and facilities devoted to the care of severely mentally or physically disabled people. But each of these is a distinct sub-sector that requires specialist skills and knowledge.
Another strand to the healthcare property sector is health centres which, like care homes, still often operate from converted Victorian houses in the UK, unsuited to modern needs. Octopus Healthcare's MedicX Fund is a specialist fund investing in modern, purpose-built primary healthcare properties let to doctors and the National Health Service (NHS).
Octopus Healthcare CEO Mike Adams highlights the favourable income-producing qualities of these assets: "I expect a building to deliver income for 60 or 70 years. The main reason is, if you build a GP surgery that you build to order, you are not competing with third parties on it. A set of GPs then has a monopoly for providing services in a specific area."
The income is secure and high quality, being based on binding agreements with the NHS, he says. "Rents are upward only. Your risk is how quickly income will grow. If we move into a period of very low inflation we won't get rental growth."
"Rents are upward only. Your risk is how quickly income will grow. If we move into a period of very low inflation we won't get rental growth"

Mike Adams
The factors that make the healthcare asset class attractive are not hard to find. The demographic pressures of increased longevity often accompanied by poor health and dementia in Europe and elsewhere are well documented. The OECD has forecast that by 2050 the proportion of over-65s globally will almost double from its 2010 figure of 15% to 27%, while the over-80s will rise from 4% to 10%. In the UK and Europe there is generally a lack of suitable accommodation for them.
Knight Frank estimates that there are around 20,000 care homes in the UK, of which 80% are either period conversions or otherwise substandard quality. Other healthcare assets are also affected by growing obsolescence.
Opportunity to build purpose-built assets in the UK
Kenneth MacKenzie
Healthcare, as part of the 'alternatives' asset class – and the UK's elderly care sector in particular – is seeing an increased level of investment activity, benefiting from the favourable underlying population dynamics that are driving demand in the sector. Not only is the number of 85-year-olds set to double in the next 20 years, but the average life expectancy beyond retirement age is also increasing rapidly.
At the end of the 19th century, the average retiree lived for two years post-retirement compared with 20 years today. But as the years advance, so does the proportion of dementia increase among seniors.
With an ageing population comes the additional challenges of frailty and other chronic illnesses such as dementia. Funding pressures continue to build on the NHS, with more than half of expenditure being directed towards the over-65-year-old category.
Hospitals are positioning themselves towards focusing on the delivery of high acuity treatments, with the requirement for longer-term care moved to other sources, either via domiciliary care, or into secondary care facilities, such as rehabilitation units and residential care.
The latter is considered a much more suitable setting for those suffering from dementia, compared with domiciliary care, where the clients remain in their own home, but often suffer loneliness and the added confusion from the high turnover of carers often experienced by the client.
Approximately 15% of over-85-year-olds are expected to make use of some form of residential care and to meet this demand the UK's ageing care home stock requires to be substantially upgraded and expanded – approximately 85% of UK care homes are more than 10 years old and, as already mentioned, the numbers are expected to double over the next 20 years. This presents a clear investment opportunity for those real estate investors willing to invest in modern, purpose-built healthcare facilities run by quality care operators.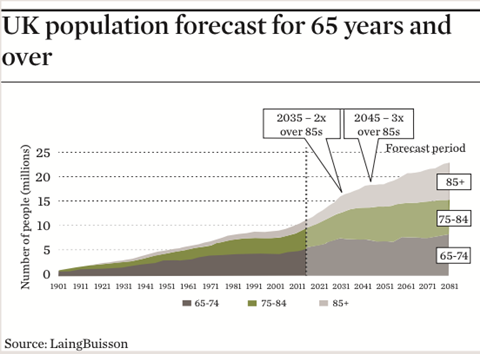 Investing in the elderly care sector, and finding the real quality operators, however, is not without its challenges and there have been a number of high-profile cases in recent years which have been sad examples of the kind of reputational risks that are so injurious to investors, and equally as important, deeply traumatic for the residents and clients.
As in any service-led sector, there is the potential for reputational issues as a result of poor provision of care, which investors must seek to insulate themselves from. The lessons first expressed by Florence Nightingale in the 19th century about ensuring high standards of care, both clinical and social, still hold true today. It is essential that underlying care fundamentals are strong in all circumstances and flowing from this, financial performance typically follows.
Care funding also remains firmly on the political agenda, with a burgeoning gap in terms of the cost of elderly care between those residents paid for out of government funds and those who are self-funded, with the latter, in effect, subsidising the government shortfall with very little by way of care service differentiation.
Kenneth MacKenzie is managing partner at Target Advisers
Evans says: "The built environment is now, in the main, not fit for purpose. There is a huge problem in the UK and demand is outstripping supply. That will crystallise in the next 10 to 15 years and a lot of assets will become obsolete. Investors recognise the dynamics of the sector are compelling."
Long-term investors such as pension funds and insurance companies like the combination of long leases and index-linked rents. And yields tend to be higher than standard sectors.
Martin says: "From an investment perspective, the attractiveness is the length of income you get from healthcare leases. Because the real estate is specialised, often built for an individual occupier, the leases tend to be 15 to 20 years or in excess of that, typically with a ratchet to CPI or RPI [inflation]. That index linkage is valuable to institutional investors who are using these assets to fund payments to pension holders."
In the UK, care homes are split between publicly funded and private pay residences, with more stable rental income of the latter generally most interesting to investors. Public sector homes, by contrast, may face the uncertainties of income cuts from cash-strapped local authorities.
Investors need to be particularly careful choosing assets. The quality of the operator is especially important.
Paul Jayasingha, global head of real estate at Towers Watson, says: "The landlords in strategies we have taken to clients pay particular attention to the quality of operators, not only financial but non-financial aspects. What are they doing to assess quality of care provision, the quality of food – which gives a lot of insight into how they care for patients. Food is a nominal cost but has a big impact on the lifestyle quality of patients. Reports from the regulator the Care Quality Commission provide an objective view of care quality and standards provided."
Towers Watson advises clients to follow a specialist fund route into the asset class. "You do need to pay a lot of attention to the quality of the manager and quality of sourcing and ongoing asset management," says Jayasingha.
Target Healthcare REIT focuses on care homes, both private-pay and public-sector financed, with around 40-50% of homes private-pay. Target's managing partner Kenneth MacKenzie says: "Part of what we are trying to do is create a portfolio of assets with a diversity of tenants, so there's no single-operator risk, and also we like tenants themselves to have several sources of income so they are not dependent on one particular stream."
Healthcare: medicine of placebo for low-risk investors
Hugo Llewelyn
Healthcare has become an increasingly popular asset class, but get under the skin of the sector and the reality can be somewhat different from the original diagnosis.
The sector is complex and encompasses a wide variety of real estate, comprising three main areas.
• Cure – doctors' surgeries (primary), specialist hospitals (tertiary/quaternary).
• Care – often residential accommodation for the elderly or disabled, but also encompassing, for example, renal facilities for diabetics.
• Operational – ambulance stations, administration and training. The sector also increasingly includes dentistry, pathology labs, well-being facilities and a host of others.
There are also a wide variety of counterparty tenants from the public and private sector, with varying degrees of balance-sheet stability. A common misconception is that if the state is paying the tenant for services, then the tenant is unlikely to default as the rent is somehow government-backed (it is, in fact, only the top-line revenue). That thinking has cost many investors dearly, particularly in the context of elderly care where councils have had their social care budgets cut. The NHS is also in financial difficulty and trying to work out how to reduce its fixed cost base including rental streams, PFI contracts and surplus land.
Long-term leases and fixed uplifts, which have been the feature of many sale and leasebacks, can also be artificial and often inflated at day one to maximise capital value and to offset bespoke fixtures, fittings and tenants' equipment in the building. This can lead to the investment flat-lining over time.
Nor is the market immune to valuation falls – even the secure doctors' surgery market saw 10%-20% falls in the recession and little rental growth between 2008 and 2012.
Many investors had leveraged these assets significantly and there were many breaches of loan-to-value covenants, mostly overlooked by banks as income cover was secure. The subsequent hunt for quality income resuscitated the patient as bond yields came in.
On a more positive note, though, nominal, ring-fenced funding of the NHS remains central to the policies of all
the main political parties and the NHS management is having to be more innovative in working with the private sector, including real estate capital provision.
Furthermore, the UK's fatter and older demographic increases the need for well-appointed healthcare property. Technology is changing but not removing the need for bricks and mortar in response to this.
Long leases and fixed uplifts are no panacea for investment performance in the sector, as they have a habit of disappearing when reliance is needed – think Southern Cross. The capital market is subject to ebbs and flows too. In summary, there are high-risk and low-risk investments in the sector, as is the case across the spectrum of physical assets core to today's society. Long-term success in the sector comes from a good understanding of the underlying tenant's business and needs.
Hugo Llewelyn is managing director at Newcore Capital Management
MacKenzie says the two key factors in buying a care home are location and quality of care. "You need to have a best-in-class home in its local market. You have to do a lot of local work to understand the local situation – to look at what the competition is, and how many over-85s there are in that local area."
Then there is quality of care. "Running a care home is a tough business," he says. "Typically, the staff are not particularly well paid. You need to be sure there are enough staff to run the home without incurring agency costs. You need to understand the culture and objectives of owners or managers. Some of the larger operators may have one area manager running 15 homes. We have some tenants with two or three homes. We're happy with that because the owners know the people providing care."
The stability of rent is paramount in assessing suitable assets. Hideki Kurata, head of alternatives at AXA Real Estate , says: "It's key that rent is at a sustainable level. You can only judge that if you understand how the underlying business is doing and the drivers for that business. This is what determines the criteria we look at when we analyse an investment opportunity."
The Southern Cross failure of 2011 still casts a shadow over the sector. It became insolvent when local authorities reduced referrals of residents, thus reducing occupancy rates, and cut the rents they could pay. A whiff of association with a situation where vulnerable elderly people risk losing their home is the kind of reputational risk that investors are keen to avoid. Reports of cruelty and neglect in some homes have also underlined the risk.
"In the UK… demand is outstripping supply"

Julian Evans
Pension funds have to go into this with their eyes open, says Jayasingha. "They have to be cognisant of reputational risk. Investment in healthcare property is that, it's investment in the property, distinct from the operations which are attendant."
The Nordic nations face the same demographic pressures as elsewhere, but the structure of the markets are somewhat different to the UK. Elderly people who become too frail or confused to remain in their own home are assigned or sometimes choose a care home. The cost of the care is met through the person's own pension income topped up by the local authority, ultimately backed by the government. This means investors can rely on continuity and stability of rental income.
Northern Horizons runs two healthcare funds investing in care homes in Finland for the elderly or patients with dementia. In Finland there is a private for-profit care sector.
Michael Schönach, group CEO of Helsinki-based Northern Horizon Capital, says: "The private operator signs a lease contract with us for a facility or we develop it together with the private operator to match their needs. Private operators are tenants implicitly backed by the public sector, because the cost of residents is paid for by the public sector or it's a direct contract with the municipality with its own staff and operation on site."
This favourable situation is only possible because Nordic governments have relatively low levels of debt compared with their counterparts elsewhere. Schönach says debt levels are increasing but is confident of continued support for the care system. "The current system will continue for 10 or 20 years then it will move to some kind of system where there is more participation by the individuals themselves or their families."
Northern Horizon Capital is looking to launch a new fund with a wider geographic focus later this year. Schönach says: "We are in discussions with investors. It will be a pan-Nordic fund. You still have a niche asset type but with broader geographic scope – all the Nordic countries – which results in it being of interest to investors inside and outside the Nordic region."