City Focus Rotterdam: Towards a first port of call
Development and regeneration initiatives in Rotterdam are boosting the city's image and creating new opportunities for investors, says Russell Handy 
Across Europe, the critical role that train stations play in the regeneration of cities is not to be underestimated.
In recent years, London, Paris and Berlin have all experienced the positive impact of improved rail terminals, ranging from a simple makeover to major infrastructure improvements and the addition of retail galleries and public space.
Rotterdam Centraal is no exception. For a destination where arrival by water rather than by rail would seem more obvious, the Dutch city has made great strides in improving its public realm.
Enhancements to Rotterdam's infrastructure have significantly boosted the city's national and international appeal, says Peter Borgdorff, director of large Dutch pension fund PFZW.
Rotterdam Centraal is one of four stations in the Netherlands that have been updated or expanded in recent years. The improvements carried out between 2007 and 2014 also had a positive impact on the station's surrounding neighbourhoods, Borgdorff says.
"There's no doubt that the improvements have made a big difference to Rotterdam's image," Borgdorff says.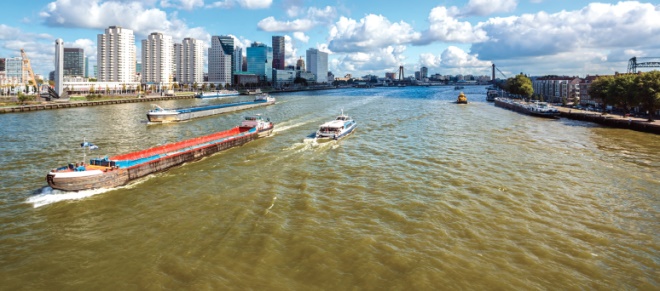 Travel guide publisher Lonely Planet last year rated Rotterdam in its Top 10 Best in Travel. It said the city is a "metropolitan jewel, riding a wave of urban development, redevelopment and regeneration".
The city's image is something that its administration continues to work on, through initiatives such as 'Rotterdam. Make it Happen' by the Municipality of Rotterdam, Rotterdam Port Authority and the Erasmus University Rotterdam.
The second-largest city in the Netherlands, with around 625,000 inhabitants, Rotterdam is well known for its thriving community and world port, says Clive Pritchard, head of Savills in Amsterdam.
The firm last year advised on the sale of the De Rotterdam building by Rabo Real Estate to a Korean consortium advised by Amundi Real Estate for a reported €400m, more than the entire investment volumes for the city's office sector in each of the past five years, according to data from CBRE.
Built in 2013, De Rotterdam includes a hotel, with 278 rooms and around 2,000sqm of conference and event space. The office element of the asset is leased to the City Council of Rotterdam on a long lease, which accounts for around 40% of income. 
"There's no doubt that the improvements have made a big difference to Rotterdam's image" 
Peter Borgdorff
While De Rotterdam's sale was the largest single-asset deal in the Netherlands, such transactions do not occur every year and the city's real estate sector has typically lingered in the shadow of Amsterdam's.
Last year's investment volumes for the city were dominated by the De Rotterdam deal, which far eclipsed any other commercial real estate transaction in the city or surrounding region.
Redevco paid €28.5m for a Rotterdam retail property. The investment manager bought the 5,540sqm former Donner building from Investore for a client.
Redevco is redeveloping the property, which it said provided good opportunities to add "significant value" through asset management.
The asset's size suits strong demand from fashion retailers looking for large-scale units in Rotterdam, says Andrew Vaughan, chief executive at Redevco.
"Neighbouring retail properties are currently under development, and we strongly believe these works add to the overall attractiveness of the location," he adds.
The unit is opposite H&M and Zara stores at 150 Lijnbaan.
Primark is due to open its largest European store, at 17,000sqm, near the asset in 2018.
A rejection of once-dominant post-war architecture means Rotterdam offers investors a high level of development and redevelopment opportunities.
De Rotterdam, Rem Koolhaas' 160,000sqm vertical city, is a typical example. Koolhaas' Office for Metropolitan Architecture (OMA) – based in Rotterdam – has paved the way for bold and brave construction, while architectural carte blanche has allowed for greater freedom and boldness.
Deemed the City of Reconstruction, or 'Wederopbouw', following extensive damage in the Second World War, Rotterdam continues to fall in and out of love with its post-war architecture. Much of the city's Reconstruction architecture was demolished as Rotterdam's economy improved, with just a few buildings given protected status.
Another Rotterdam-based architectural studio, MVRDV, was given free reign to design the city's Markthal complex which opened in 2009, and includes residential and retail space.
Elsewhere in the city, OMA merged a 1950s office block with steel and glass to create Timmerhuis, a 48,500sqm residential and office building in the Laurenskwartier district.
In a city once renowned for its obstinacy, multi-use schemes are now the norm. Change of use, a common trend across many office hubs, has also had an impact on Rotterdam, home to a former cruise liner, SS Rotterdam – now a permanently docked quirky hotel.
As the office sector faces up to less space requirements and the Dutch nation's adoption of more flexible working patterns, conversion to student housing and residential use has offered investors new opportunities.
A joint venture between The Carlyle Group and The Student Hotel invested in Rotterdam in September 2012. The firm said it increased the asset's capacity from 256 rooms to 485 rooms in 2014 to satisfy increasing demand. 
Launched in 2006 by Charlie MacGregor, the Student Hotel last November bought Carlyle's 85% stake in the joint venture, which also held assets in The Hague and Amsterdam.
The old Dutch adage that money was earned in Rotterdam and spent in Amsterdam no longer applies and the former has, in recent years, been talked of in terms of the G4, a grouping of the city with neighbouring Amsterdam, The Hague and Utrecht.
The thinking behind the four cities – which have a combined population of around seven million – working more closely together to attract investment is not new, of course. Albert Plesman, founder of Dutch airline KLM, first coined the term 'Randstad' for the megalopolis in the 1930s.
CBRE Global Investors is seeking acquisitions across the Randstad region, says Paul Oremus, manager of the firm's Dutch Residential Fund.
The fund, and one of its separate account clients, bought 238 apartments and commercial space in Rotterdam's Boompjes late last year. An existing 12,000sqm office building on the Maas river is being redeveloped into 344 apartment by Singapore's First Sponsor Group and Dutch developer Provast.
An increase in population can only benefit both the residential and commercial real estate sectors.
"It's a city which is now increasing in population," says Henk-Jan Verweij, director of Dutch industrial and logistics at CBRE. "It was a raw, blue-collar city to live in post-war, but I've seen the city changing in the last few years."
Chiel Rietvelt, head of investor relations at Rotterdam-headquartered tank storage company Royal Vopak, says advances in technology have meant that companies based in the port require a new generation of skilled young professionals.
The firm, he says, is one of the partners in the Port XL programme working towards attracting tech start-ups. PortXL partners with companies and individuals from as far away as Singapore and Houston. The aim, Rietvelt says, is to accelerate innovative companies in world ports to grow and disrupt the maritime, logistic, energy, and chemical/refinery markets.
A city historically more renowned for its passage of goods and cargo is now facing what Verweij says is the most important issue in today's competitive world; good labour.
For stakeholders, making Rotterdam the first stop rather than the last is clearly a work in progress.
Pages in: City Focus Rotterdam: Towards a first port of call