Goodman Group was created 30 years ago this year. Florence Chong talks to its founder Greg Goodman about staying ahead in an ever-evolving industry
Originally a Japanese inventory-management technique, 'just in time' (JIT) has revolutionised the global manufacturing supply chain. And now it is about to do the same for the global consumption supply chain.
Greg Goodman believes JIT is on the verge of becoming the norm in e-commerce fulfilment. Goodman, a 30-year property veteran running the world's third-largest logistics property development group, has a finger on the pulse of global logistics.
He says online shopper, expect ever-faster delivery. With the help of technology, particularly predictive technologies, retailers can pre-empt when and what their customers want. "It's like your news feeds," he says. "They know what you want to read. Online retailers know your spending and living patterns, when you order and what you buy."
In a few years, he says, consumers could find a delivery van at their door soon after an order is sent. "It's about delivery and convenience – that's the next wave coming through," he says.
For supermarket products, online retailers will have fleets of mobile refrigerated vans offering just-in-time delivery in large cities. "Supply chain is evolving daily," he says. "What the world will look like in 10 years is difficult to tell. But mobile technology certainly will become even more powerful."
Online retailers such as Amazon and Alibaba are becoming supermarket-oriented. Fully automated 'dark warehouses' that store goods close to consumers ready to be delivered in a timely manner, are becoming more common.
Predictive technologies play a key role. They tell retailers what they need to stock and when in their warehouses, and when the vans will visit to drop off or pick up stock.
China has become adept at harnessing big data, and is well-advanced in the use of technologies, robotics and automation. "Warehouses are turning out billions of parcels a day," Goodman says. "In one of our facilities in China, we had 7,000 trucks in one day on Singles Day." Alibaba racked up sales of more than US$30.8bn (€27bn) on that day.
Given that everyone is in the business of providing efficient customer service, Goodman says warehouses have become the focal point of online retailing. They have gone from large open sheds, sometimes without locks, to hives bristling with state-of-the-art technology.
Many of Goodman Group's 1,600 customers spend a lot on technology to keep pace with their competitors and the demands of end-users. "We build to high technical specifications so that our customers can put serious technology inside," says Goodman. "They equip themselves with better material-handling systems for quicker turnover in what are more efficient and highly automated warehouses."
Tenants are also signing longer leases – some for up to 20 years – because they need to amortise the multi-million-dollar investments they are making in these warehouses/distribution centres.
In part, evolution of the global supply chain is being dictated by developments in smart phones in markets such as China. The mobile phone is behind exponential growth in online retailing. As Goodman sees it, development of new technology is accelerating. "To benefit from that, we have got to be where the consumers are. Consumers are driving the value chain today."
Goodman began investing in industrial sheds aged 19 before founding the Goodman Group, which is now Australia's most expensive listed property stock. The company, through its stable of wholesale funds, manages logistics assets for some of the world's largest institutional investors, and develops A$3bn-4bn (€1.88bn-2.50bn) worth of new logistics facilities every year.
Goodman expects the group's assets under management to grow to A$50bn* over the next couple of years, with facilities in Australasia, China, Japan, the US, continental Europe, the UK, and Brazil. But, he says, these facilities will need to offer what he calls "the right stuff" because clients are now demanding an ability to meet fulfilment promises to online customers.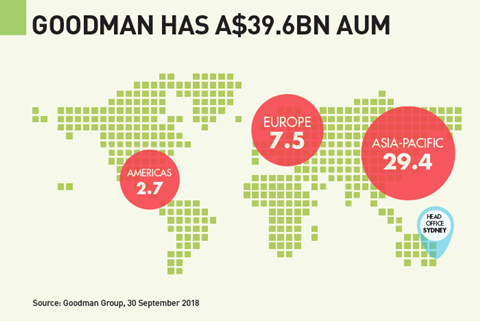 A keen observer of the logistics sector, Goodman picks up trends before they become mainstream. In 2010 he repositioned the group for inevitable changes in the sector. "We decided to get out of locations where there was no barrier to entry, land was easily available and there was little value that Goodman could add," he says. "We are not a commodity provider. We are not a generalist. We are specific in what we do and how we want to do it. We worked out what customers would need in the next five and 10 years. The central theme was urbanisation. People were moving into cities."
In implementing its gateway-city strategy, Goodman Group identified assets outside large urban areas. It was a prescient move that netted A$13bn in proceeds for recycling into more expensive assets in the heart of cities, where online fulfilment is increasingly located.
"We want to be in the heart of Beijing, of Shanghai, of Paris, of Frankfurt, of Los Angeles, and so on," he says. "That is where consumption is happening. That is where our big customers want to be so that they can fulfil their promises to their customers."
The entry barrier that keeps a well-capitalised group like Goodman ahead of its competitors is land, which is not just expensive, but notoriously difficult to assemble in large cities. For example, after three years of patient negotiations, in December Goodman landed a prize site on the edge of Charles de Gaulle Airport in Paris.
"We are working on other projects around the world that we won't bring online for three or four years," he says. "We think this evolution is going to continue over the next five to 10 years, perhaps in perpetuity."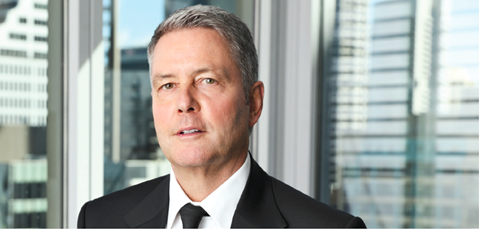 Another important shift is to high-rise warehouses. Developers are looking at multi-storey developments to maximise the use of expensive inner city sites. "Our customers' need to get cost out of their businesses continues. Everything is driven by very fine margins, so we need to be able to supply a product which can help our customers generate maximum efficiency. This demands that we provide a difference, or a service to our customers that has value."
Goodman recognises that today's sophisticated warehouses are consuming more energy, so issues such as energy monitoring, water, and carbon-effective materials are key considerations in Goodman-built facilities. "We are knocking down old warehouses in China to create green buildings. We are trying to improve our industry as a whole while also offering our customers efficiencies through more sustainable buildings."
Goodman concludes: "I think that, in the next 10 years, customers will need less space, but more efficient space in better locations. I suspect that you need to be careful of where and why you are building logistics facilities. You should only build where the demand is."
* A previous version of this article stated that assets under management at Goodman Group were expected to grow by A$50bn
Future trends: Follow the consumer
1

2

3

4

5

Currently reading

Goodman Group: Gateway gambit

6

7