Timberland provides diversification and stable returns, and can help reduce an investor's carbon footprint. Florence Chong and Christopher O'Dea report
It has become a recognised asset class for those seeking returns with low correlation to equities and bonds, low volatility, and a good measure of inflation protection. But trees do not just store financial value. They also store carbon – and sustainably managed forests offer investors the opportunity to lock in long-term yields while mitigating one of the major contributors to climate change.
"A forest is a carbon sink," says Jeff Nuss, CEO of Greenwood Resources. "We're starting to better understand the way in which CO2 is sequestered and stored in wood."
Nuss founded Greenwood in Portland, Oregon, in 1998, initially managing fast-growing, high-yield tree farms in the Pacific Northwest. Greenwood manages $1bn (€0.8bn) in assets in the US, primarily in the Pacific Northwest and South, and another $1bn in forests primarily in Europe and Latin America. Global expansion accelerated after TIAA took a majority stake in Greenwood in 2010 and the firm launched a global timberland fund.
Greenwood's initial international venture was in China as early as 2003, followed by projects in Chile, Poland and Brazil. "We're looking for opportunities to build new assets for growing markets by managing trees in a way that can sustainably meet long-term demands for wood, while meeting environmental demands and supporting economies in local regions," Nuss says.
Demand for wood and wood products is increasing in emerging markets as new middle-class consumers spend more on paper products and other goods that require packaging made from wood pulp. "These segments of the forest products industry have higher growth projections because people that are moving up the economic ladder are able to buy more goods," Nuss says. In addition, consumers and investors both want to understand the resources that go into products and ensure they are produced sustainably.
Building-products manufacturers are using new laminating technology to produce prefabricated walls and other components that make it possible to build high-rises up to 10 stories tall largely from wood and wood products. "These are innovative products coming to market, predicated on wood," Nuss says. Because forest products can replace materials derived from extractive industries, such as steel and cement, "they should have a much higher impact from a carbon value standpoint."
Greenwood obtains sustainability certifications from various forestry organisations, including the Forest Sustainability Council, a global entity, the Sustainable Forest Initiative in the US, and the Program for the Endorsement of Forest Certification, a global entity that relies on local certification bodies. Certifications require third-party audits to ensure forest assets are meeting requirements.
"A forest is a natural system," Nuss says. "We look at how to protect the forest for its long-term value." This entails managing many technical factors, including land management, soil preservation, habitat preservation, water quality monitoring and watershed preservation, as well as social factors such as long-term employment of local personnel, safety programmes and use of local contractors for key periodic work such as timber harvesting.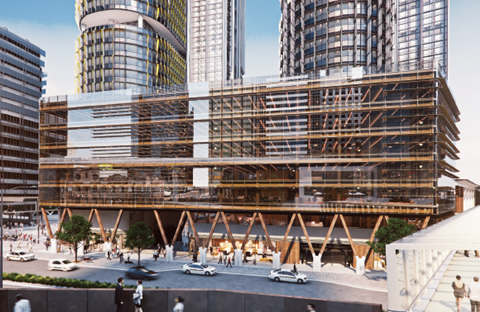 "Those are all opportunities to sustainably manage this asset and store carbon," says Nuss. "We believe in the value of science, and that you can manage forests as a natural solution to the challenges of mitigating a two-degree increase in temperature."
Emerging trends in this area include increasing carbon sequestration by planting new trees on bare land, called 'afforestation', and carefully thinning trees to increase the standing volume of sequestered carbon. These practices can pay off for investors. "This can be an opportunity to fundamentally enhance value in instances where an entity might pay to offset CO2 emissions by investing in timberland," Nuss says.
One of the primary sources of a forest's value for institutional investors will remain timberland's inherent return from biological growth. "We are managing the wood," Nuss says. "It's not about clear-cutting and depleting the wood. It's about a sustainable yield model of tree inventory – managed in a way that both looks at sustained cash yield or cash flow for our investors, but also has a long-term view of how we're going to continue to create asset value over time."
New Forests: Australia's AU$3bn manager
It is estimated that institutional investors own US$100bn in timberland, 75% of that in North America. Over the past decade, the assets under management of the top managers in forestry have risen from US$24bn in December 2006 to US$44bn in December 2016, according to some estimates.
The largest timberland manager is Hancock Timber Resource Group, which manages the investments of Australia's industry super fund, UniSuper.
Two dozen of the world's largest global pension funds and institutions collectively form the largest single investor group in Australia's forestry sector. Their combined holding of 530,000 hectares of plantations is valued at AUD3.1bn (€1.94bn). They are also, collectively, one of the major exporters of wood chip and timber products to the global market – primarily to Asia.
Their first asset in Australia was acquired in 2010 through the Australia New Zealand Forest Fund (ANZFF), launched by Sydney-based manager New Forests in 2010. Since then, New Forests, founded by David Brand, a Canadian scientist trained in forestry and carbon management, has launched two follow-up funds.
Today, New Forests has AUD4.5bn of assets under management. It is the fifth-largest timberland manager in the world. As of March 2017, it managed 2.25m acres (915,000 hectares) of forestry, land and conservation investment.
New Forests' funds have attracted interest from large international pension funds, raising AUD490m (€306m) for its first fund and AUD707m for its second. "We had our biggest raising with the third fund, which closed with AUD873m last November," says Brand.
He declines to name his investors. But they are understood to include Alberta Investment Management Corporation (AIMCo), AP2 from Sweden, and Pension Protection Fund from the UK. Other investors are thought to include development finance institutions such as Danish Climate Investment Fund, Finnfund from Finland and the Dutch development bank, FMO.
"Many of our investors have decided to reduce their holdings in fossil fuel-based investments, for example, and as part of their decarbonisation programme, they are putting their money into forestry," says Brand. Forestry investment can have a net-negative carbon emission profile, and contribute to a net reduction in greenhouse gas emissions at the whole-of-portfolio level, he says.
Managers like New Forests provide what are known as carbon accounts to enable investors to work out the net carbon balance their forestry investment generates each year. These investments are not made strictly to comply with their ESG obligations; rather, the pension funds themselves see a strong business case for investing in forestry.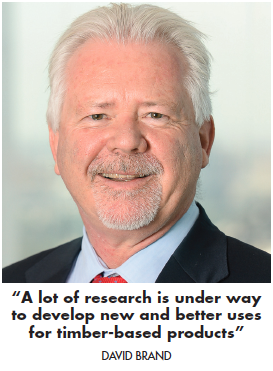 Driven mainly by a regional shortage and resultant increases in the price of timber as global demand continues to rise, Brand says investors are getting good risk-adjusted returns from timberland investment.
Demand for lumber and timber products is growing in tandem with innovations that bring new uses for timber-based products to market. A promising area is the development of biomaterials. New timber-based products are now used in the manufacture of biochemicals, bioplastics, polymers and cellulose-based fabrics. In many cases, these biomaterials can substitute for or supplement other materials, such as those derived from petroleum. As an example, says Brand, demand for "dissolving pulp" has been driven by the rising demand for rayon, which is a substitute for polyester derived from petroleum refining.
Although timber is still the primary material used in house construction, a new trend is for multi-storied buildings to be designed with engineered wood products, such as cross-laminated timber. Development of this product has enabled construction of eco-friendly, high-rise timber towers.
Australian developer Lendlease used cross-laminated timber in 2013 to build its pilot engineered timber office building, Forte, in Melbourne's Docklands. Lendlease has since constructed several more timber office towers.
Brand says: "A lot of research is under way to develop new and better uses for timber-based products."
The mandate for ANZFF has expanded to allow for investment in both processing and infrastructure, such as sawmills, ports, and bio-energy facilities.
As well as cross-laminated timber technology, New Forests is reviewing opportunities offered by other new technologies, such as black pellets, a biomass-based fuel made of timber processing waste which is capable of producing 85% of the energy density of coal.
Already, many countries, particularly in Europe, have switched their fuel source from coal to black pellets. Global black pellet demand is expected to almost double between 2015 and 2025.
Over that time, as Asia's demand picks up, Europe's share of the global black pellet market will move down from 81% to 74%, according to New Forests' 2017 Timberland Investment Outlook. Global production of wood pellets (a predecessor of advanced next-generation black pellet products) rose 42% from 20m to 28m tonnes between 2012 and 2015.
New Forests plantations produce about six million tonnes of timber – more than the total production of a country like Mexico – each year, says Brand. In Australia, New Forests accounts for 40% of hardwood chip exports, generating revenue of more than AUD300m annually.
Its eucalyptus wood chip is sold mainly to China, where the rise of the Chinese middle class has generated demand for products ranging from packaging, tissues and baby-diaper filling to rayon for clothing, as mentioned above. China also imports both hard wood and soft wood timber for the manufacture of furniture, plywood and concrete formwork used in construction.
New Forests sells logs to its domestic sawmills in Australia and New Zealand to produce structural lumber for house building. Australia and New Zealand represent the second-largest timberland investment market in the world, after the US.
The Australasian market has the highest penetration of institutional ownership, holding roughly half of the US$22bn pool of timber plantation assets.
Brand says the strategy is to focus on three geographic regions: Australia and New Zealand, Southeast Asia, and the US. Relative to Australia, the US is a market with less than 10% of its total forest assets under institutional management.
New Forests runs separate accounts and direct club deals in the US, but it is likely that – given the pace of development – it could look to run a commingled fund there, and possibly convert some of its closed-ended funds elsewhere into open-ended funds.
Brand says the firm's US strategy is different from that in Asia and Australasia, where it owns and operates timber plantations and timber production and manufacturing facilities. In the US, the focus is on adding value through carbon trading. New Forests, which has been working on carbon trading in the US since 2011, manages the Forest Carbon Partners fund with more than 450,000 acres of carbon projects for third-party landowners in continental US and Alaska.
In September 2016, on behalf of a separate account client, New Forests acquired a California timberland asset of about 2,700 hectares, the first acquisition under its carbon forestry strategy. Then, in October last year, it made a large investment, buying 170,000 acres of timberland in northern California from Roseburg Resources. That transaction brought New Forest's total US timberland under management to 186,000 acres.
As its first large direct deal in the US, the Roseburg transaction signals a new phase of the investment strategy there. Brand says it is now becoming evident that forestry property can be acquired to develop timber production with a carbon offset scheme, generating returns 2-4% higher than traditional timberland returns.
He says New Forests has the tools required to embark on segmentation of the mature US timberland market. The key is to be able to segment the forests and to map areas with high carbon values, in so doing reaping higher returns for investors.
The Roseburg investment is expected to be cash-flow positive from its first year. Brand's view is that, because New Forests will replant where it harvests, the timberland will generate cash flows in perpetuity. The Douglas-fir and pine forest, which has been in production for the past 100 years, supplies lumber to local sawmills and plywood veneer mills.
With the global carbon price rising to US$15 a tonne, the strategy used in the US can also be implemented in New Zealand, where New Forests owns 18,000 hectares of forestry plantations spread across the North and South islands, Brand says.
"In Australia, where the Australian government is running a carbon offset scheme, New Forests will have the opportunity to convert short rotation hardwood plantations to longer-rotation sawlog plantations," he adds.
New Forests made a start in Southeast Asia in 2012 with the launch of its Tropical Asia Forest Fund. The first institutional investment fund dedicated to sustainable forestry in that region, by its final close in 2013 it had raised US$170m.
The fund is fully invested, with holdings in Malaysia, Indonesia and Laos. A second fund is on the cards. "From our perspective, we will buy existing plantations or plantable land to grow new greenfield plantations," Brand says. "Plantations can be developed from degraded land where the original forest was cut down more 20 years or more ago."
Currently, he says, New Forests' Indonesian investment has planted 18,000 hectares on degraded land in West Kalimantan.
Seeing the wood and the trees
For Future Fund, NZ Super Fund and UniSuper, timber is a top performer in their infrastructure portfolios.
Florence Chong
In the last financial year, Australia's Future Fund topped-up its portfolio of timberland with an acquisition in the US for US$168m (€135m), bringing its total holding to AU$750m (€472m). As at 30 June 2017, Future Fund had 7% of its infrastructure and timberland portfolio invested in the asset class.
"The main driver for any investment is the extent to which it contributes to our ability to deliver strong risk-adjusted returns," says a spokesman. "ESG [environmental, social and governance] considerations are integrated as part of the investment decision-making process."
The AUD140bn Future Fund first invested in timber in 2010 and in the following year backed the US-based Campbell Group to successfully bid for South Australian forestry assets, reportedly valued at AU$600m.
Future Fund says the Australian timberland investment has performed well, supported by Asian demand for logs and strength in local housing construction.
"The infrastructure and timberland portfolio is part of our tangible assets programme, which is designed to give exposure to investment where the return over the very long term is expected to come primarily from the income return on a physical asset," says the spokesman.
Asked if Future Fund is continuing to increase its presence in the sector, the spokesman says: "We continue to seek additional opportunities but remain price disciplined."
Across the Tasman Sea, Future Fund's New Zealand counterpart, the climate-change-aware New Zealand Super, has 5% of the fund invested in forestry assets in New Zealand and worldwide. The holdings are valued at about NZ$2bn (€1.2bn).
New Zealand Super's largest forestry investment is in New Zealand, where it owns a 42% stake in Kaingaora Timberlands, the owner of the Kaingaroa forest plantation.
Two funds, Global Timber Investors 8 and 9, managed by New Hampshire-based Global Forest Partners, hold its offshore assets including a small investment in Australia and others countries, such as Brazil, Uruguay, Chile, Guatemala, and Cambodia.
New Zealand Super also has a small interest in a forest estate in the US managed by Hancock Timber Resource Group. A spokesman for NZ Super Fund says timberland is "a good diversifier for the fund, with low correlation to both bond and equity markets". She adds that the timber portfolio has delivered strong returns since inception.
"Certainly, timber is one of the best-performing unlisted assets in our portfolio," says Kent Robbins (pictured), UniSuper's head of property and infrastructure. "It has outperformed property. But its returns can be cyclical and its performance influenced by many variables, including harvesting and transportation (including shipping) costs and prospects in the export market."
For UniSuper, timber investment is central to the fund's ESG responsibility. Its internal ESG team is more involved with timber than with any other investment.
But UniSuper, one of Australia's largest industry super funds, considered selling its three timberland assets to fund participation in a consortium bidding for the Port of Brisbane in 2010. At the time, UniSuper, now an A$65bn fund, had owned the assets – a plantation in Australia, and two in New Zealand – for more than a decade. But the fund had felt for some time that the timber portfolio was not sitting "comfortably" within its portfolio.
"For a range of minor reasons, the infrastructure transaction didn't proceed," Robbins recalls. "We then set about making changes with our timber investments to ensure that they would be satisfactory for a long-term hold."
He says the fund had governance concerns, and began working on a plan with the asset manager, Hancock Timber Resource Group, to modernise the governance regime of the plantations.
At the time, the portfolio was worth about AUD400m. Robbins says UniSuper started to increase its holdings through pre-emptive rights and other initiatives. The portfolio now stands at about A$650m, or 1% of the fund's total assets.
As luck would have it, says Robbins, the underlying performance of all three assets has been "exceptional", with timber prices rising because of strong demand.
The timber is sold to domestic timber yards for use in Australia's housing market. With population growth, demand for new house construction is strong.
Robbins says that, while logs from its Australian plantations feed the local housing market, output from the New Zealand plantations is predominantly exported.